Villa's campus is no stranger to student camera crews, but last month the College welcomed the professionals. A commercial for the National Football League was shot in the Main Building and Dion Dawkins was its star. This was Dawkins', a pro-bowl offensive tackle for the Buffalo Bills, first time on Pine Ridge Road.
In the days leading up to the shoot, a team of location scouts flew in from Los Angeles to scope out the campus. Jake Cassell, one of Villa Maria's digital filmmaking part-time faculty members, served as the liaison between the crew and the College. He explained that this crew would make sure that the spaces being considered for the shoot would meet the director's vision.
The team settled on shooting the main portion of the commercial on the ground floor of the Main Building, in the hallway between the Digital Media Arts Center (DMAC), the animation labs, as well as the library.
On the day of the shoot, the hallway was quickly transformed into a professional set – with hair, makeup, and wardrobe setting up in the DMAC, the art gallery housing the production crew, props and other equipment were stockpiled in the mission nook, and craft services in the parking lot. Tiles were popped out of the ceiling to make room for the professional lighting and the hallway was draped off to help maintain consistency of light. Amid all the excitement, Villa students went about their days as if such major events occur regularly.
Once the director called for quiet on the set, filming began. Locked in the art gallery, the production crew watched through monitors as Dawkins delivered his lines, ensuring that everything looked and sounded just right.
Hours later, production was wrapped on the ground floor. The crews moved up to the library to get a few more shots, and Dawkins spent some time talking to Villa's Provost, Dr. Ryan Hartnett, before heading out.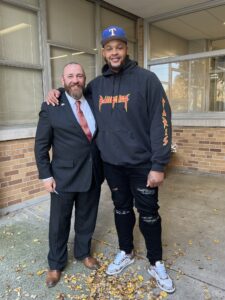 "Hosting a professional crew gave our students a really unique experience," said Dr. Hartnett. "It's not every day that they get such an intimate look at what goes into making a national commercial. This experience served as a potential 'day in the life' for many of our students – a sneak peek into what they could be doing after graduation. And it's always exciting to have a public figure on campus."
The College offers several programs from which a graduate could end up working on a professional film crew: digital filmmaking, animation, digital media design, graphic design, motion design, music, photography, and more.
The crews disassembled and left as quickly and as efficiently as they came, leaving campus exactly as they found it. The commercial, which shares an important message about social justice and change, aired on Sunday, November 20 during the Bills versus Browns game played in Detroit.
Watch the commercial here:
The NFL recognizes the power of our platform to create real, positive change. We see you, mentors. We are here to shine a light on those who are working to reduce barriers to opportunity. #InspireChange #ItTakesAllOfUs pic.twitter.com/Q0j4kuzQmk

— NFL (@NFL) November 18, 2022